iEV X+ - intelligent Electric Vehicle
Introducing the iEV X Series - Futuristic Robotic Body Platform Designed Vehicle that changes size based on your needs.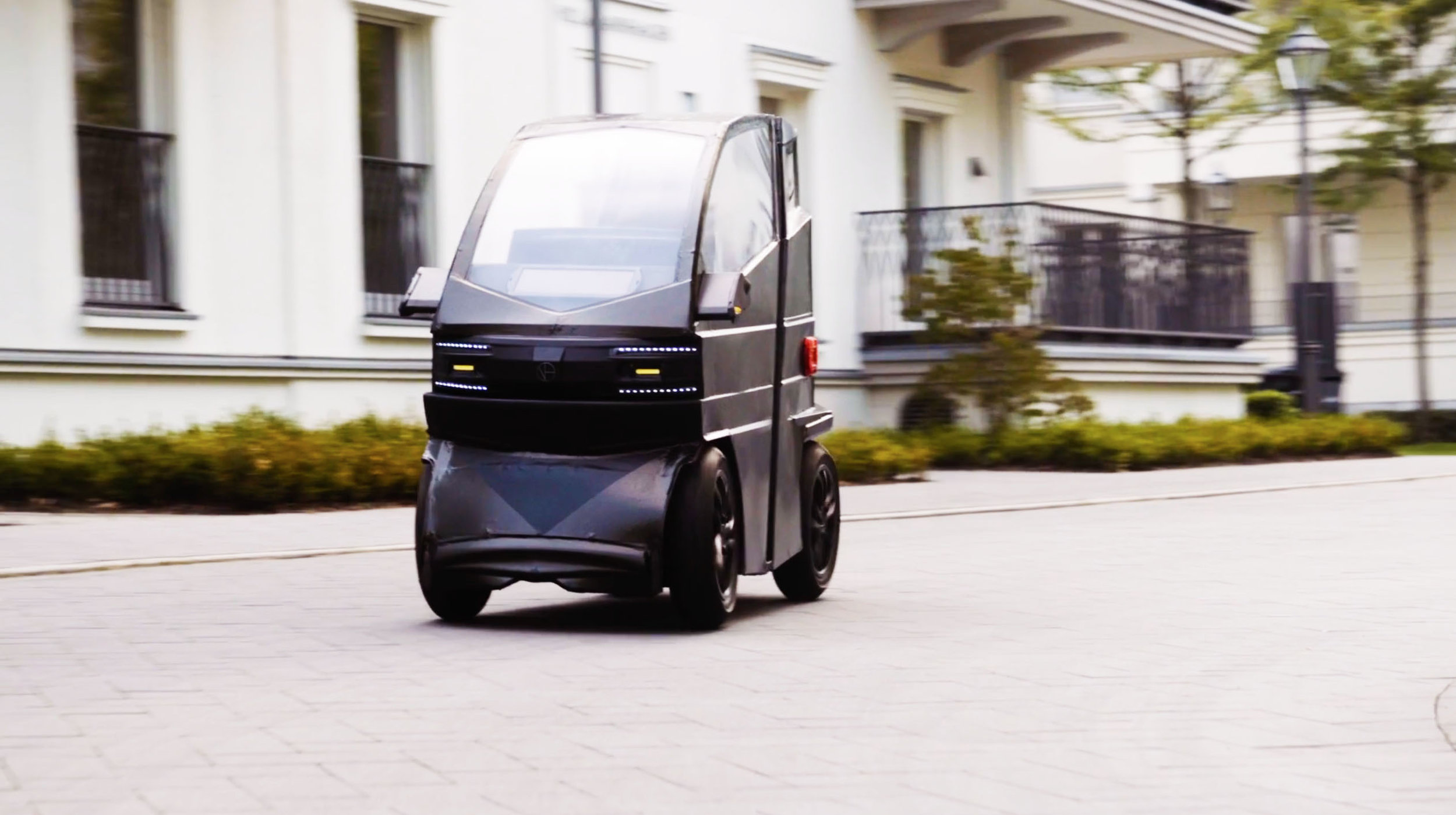 - Unbelievable 78 cm width
- Carries 1-2 individuals
- 6-7 times smaller than a car
- Powerful uphill and aerodynamic efficiency.
S I Z E
iEV X Series Flexible Robotic Platform
Dimensions for 1 Passenger: Length: 160 cm, Width: 78 cm and Height: 135 cm
Dimensions for 2 Passengers: Length robotically changes to 190 cm
Dimensions for more passengers/cargo: Length robotically changes from 190-220 cm
In drive mode you are able to open the roof together with the door to a limited amount of 20 cm max for some fresh air.
iEV X Series can drive in motorbike or mobility line of the road.
Controlled via iEV X mobile application or from the dashboard (completely robotic).
The size could be changed to fit in more people, more stuff, and more air!
The iEV X , World's ultra-narrow Intelligent electric car
The ultra compact size makes city roads feel wider
The ultra compact iEV X is 78cm wide enabling ease of handling in confined spaces. It can run without using the entire lane on crowded urban roads, and it only needs a parking space of 6-7 time of a normal car.iEV X Power Side Mirror: first intelligent power side mirror with 100% Closure Creating the unbelievable 78 cm width, the power side mirror compared to other car side mirrors which fold with a max 50%, iEV X has 100% closure. For the convenience of a motorbike and comfort and stability of a car… As easy to use as a motorbike, but without fear of getting wet in rain, and no need to wear a helmet. Since it is the vehicle that maintains balance ? not the driver ? stability is maintained not only on curves, but on slopes and over uneven surfaces. Anyone can drive iEV X safely and comfortably
S A F T E Y
The iEV X Series are the Smallest Intelligent Electric Vehicles in the world due to its body and design which allows it to be the safest option in its in its category. This is due to:
Strong carbon steel chassis & aluminum body panel protecting the passenger within the vehicle.
A protected room with standard, comfortable seat with seat-belts, large doors on either side (Flexible Robotic Platform Technology)
4 wheel vehicle creating stability
iEV X Series is equipped with Rear camera 170 degree Wide-Angle perspective to eliminate blind angle working with the 7' touch screen monitor
Power Side mirror for rear view also included
Use your phone as the KEY to your iEV
iEV X - In Action
The Quality of finishing products:The pictures and model representations of the vehicle are not the quality of the finishing product and are prototypes. The final product may vary in that it will consist of molding finishes and machine cut brushed aluminum. We Design and Manufacture the iEV X series ourselves in Germany.
iEV Robotic Charging System "iEV RCS"
Charge your vehicle like the future wants it:
No wire, No plug in, All ROBOTIC Exclusive for the iEV X+ only
Visit our Kickstarter to support us
Order Now your very own iEV X!